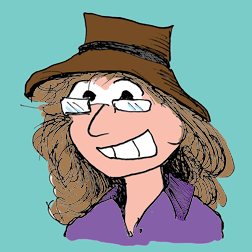 "self portrait in 'toon"
Terri J. Garofalo is an artist, cartoonist and humorous wordsmith… Jane of all trades, master of some.
I never know where to start with these bios… I've taken the road less travelled by much of my life. Art-wise, I draw, paint, photograph, sculpt, write, etc. It's better defined by saying, I create. (THAT WAS EASY! SHEESH!)
Much my work encompasses multiple media. There is a thread to expression, gesture and motion in my art, cartoons, writing. Think too much and you lose it. There are those happy accidents you get on paper, in clay, in wording that will never EVER be recreated again. I go with those. Often it is what makes the work really live in the world. I like my artwork rough and ready!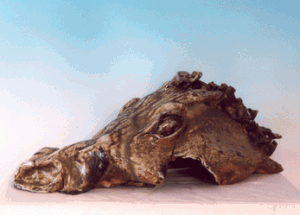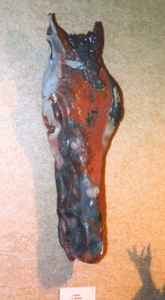 I've cartooned most of my life. It all started with a comic strip called "Wabbit Hutch". You can see how Arno's hairstyle evolved from a pair of rabbit ears… It's quite a stretch, but I discovered the connection quite by accident pouring over old relics in my portfolio.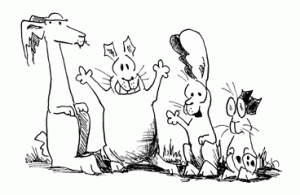 There were many, many incarnations of this comic and its characters until I abandoned it for hockey and a strip called "Puck". Puck was popular on the web in the 90's along with my alter-ego, The Netminder. I was big in Canada and Finland. I went up, timeslot to timeslot, against Seinfeld with my infamous chat show, "Sweepin' The Crease…"Needless to say I was a huge success! (Not sarcasm, thank you!) It's fun when people insist you're a 6′ 2″ and 250lb. goaltender… If ya only knew! HA!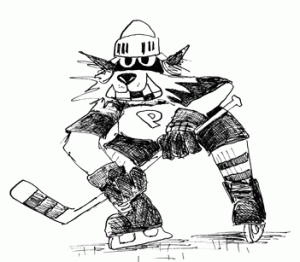 I was notorious with a political cartoon in a local newspaper I drew in collaboration with my boss at the time, "Big Cheese." It gleaned me some sort of notoriety, some of it not of the pleasant sort. Good thing my number was unlisted and nobody figured out where I lived…
My later works have included equine themes with "The Obvious Horse" (main character is my obviously-spotted Appaloosa, Blackjack, a.k.a. Genius and his sidekick, Monster Pony. I also do a single-panel for the dressage community called "Piéce de Rèsistance" about the quirks of riding the most difficult discipline in the horse world. To ride dressage, you need a very good sense of humor… especially when you ride those resistant equines. I know, I own one! …or he owns me.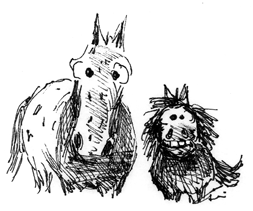 "In Spirit" became my next cartoon endeavor. It was spawned from a character derived from a dream where Jim Morrison knocked on my door (no pun intended) and explained how he would like to be drawn if he was still alive and living as a recluse in the woods. So, after a false start with the character in another comic, I created Woodsworth who retreats to a trailer in the woods only to discover he's not the only recluse there; the other, Fred just so happens to be dead. Entities-R-Us are called in to investigate…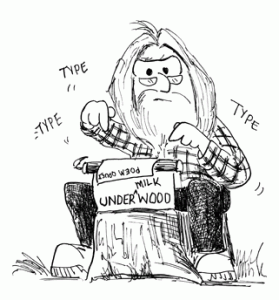 …which obviously leads to THIS comic strip. The ironic thing is that the Entities characters were drummed up in probably 15 minutes (as is all my best work). Erna was already in place as Woodsworth's psychic girlfriend. Vlad appeared when it occurred to me a demonologist harbored a wealth of comic relief. Ms. Henpeck and the Imps showed up to make the office nice and haunted. Carl and Thor, the ghosts from Ouija Nite came into being after I drew my first Ouija cartoon. I decided Ouija Nite needed to be a regular addition to the weekly humor run. Thus the Entities-R-Us crew was born. Oh yes, the Microbus was a given for the ghost hunting vehicle… it's a cult-classic icon from those times I was stuck in traffic when the Grateful Dead was in town. No, I drove a '77 Monte Carlo at the time – ahhh, the Millennium Falcon could never compare with "Orville".
So how does one go from rabbits, to hockey, to politics, to horses, to paranormal? It's quite logical actually… depending on the brand of logic you subscribe to. I won't even try. It might cause the polar tilt to happen sooner than expected. Let's just call it part of my "spiritual journey".
My first paranormal experience was NOT in the 100 year old, New Hampshire farmhouse I grew up in, NOT in my grandparents' 100 year old homes, NOT in my parents older home, where the guy who had built it accidentally ran over himself while drunk. I've lived in likely haunts, but had not been so. It happened after art school in an old house on the west side of Hartford, CT. This was after I spent an undeclared minor in philosophy debunking existence altogether. Since I had no idea whether I was actually alive, conscious or existent, I was certainly not entertaining the idea of ghosts. Of course, that's when one shows up in my life.
Since then, I've had numerous paranormal experiences and have discovered some latent psychic tendencies. My own spiritual rumblings eventually led me to writing In Spirit and later, Entities-R-Us.
Â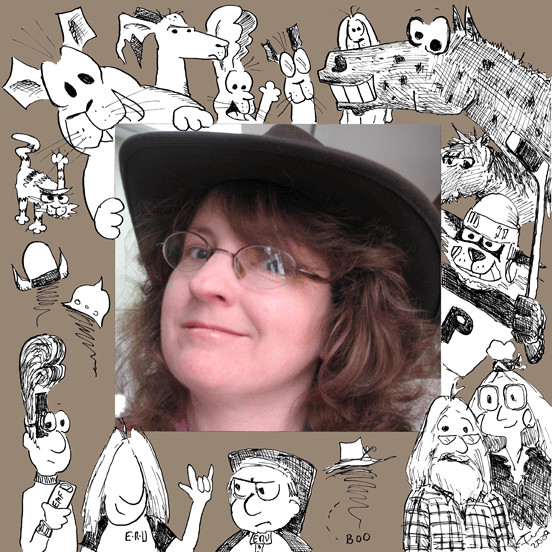 "self portrait in with 'toons"
Back in the Jurassic Period at the University of Hartford Art School, I thwarted the punk rock era by turning "hippie"… Yes, I stole this look for Erna's character. After all it's pretty funny. Yes, I still have these clothes! Though the penny loafers have loafed off somewheres…

The drop down menu above will bring you do more related pages.