Currently most products are available off the different on-demand printing websites I publish through. Eventually, I will stock my own and ship from home base. But for now, be patient. All of these companies are reputable and have safe shopping carts.  Individual comic prints can be ordered off this site, directly through me (paypal). These prints are signed! Also, there are DOWNLOADS available on the drop down Entities Mall. I'm hoping to make improvements on this. I know it's awkward. Don't let it deter you! It's a shame money is such an issue in keeping a comic going… Alas, I can only put into it what I have to spare.
If you have special requests, feel free to contact me. I am always willing to accommodate.
BOOKS!
Entities-R-Us, Ghost Hunter Comic,
Paranormal Humor for the Ghost Hunter's Soul
by Terri J. Garofalo, Foreword by Barry FitzGerald
Get your copy here!
https://www.createspace.com/3434644 – OR you can find it on Amazon! However, if you buy it from Create Space, you will better support the comic!
This has nothing to do with the paranormal, but it IS a book that I wrote:
Can I Ride – My First Book About Riding Horses
Get your copy here!
Click Here: https://www.createspace.com/3527428
DRY GOODS!
GHOT GHOST? Well get some then!

– ERU MERCHANDISE

!
Some wayward Entities-R-Us fan asked me to make T-shirts with "Ghot Ghost" on one side and the Entities crew on the back. Well, it was sage advice, so I did. However, I took it to an extreme adding a ton of other things to choose from!
http://www.cafepress.com/ERUGotGhost
ENTITIES-R-US T-SHIRTS, MUGS, SIGS, MOUSE PADS… ETC.
Find Entities-R-Us, Ghost Hunter Comic Paranormal Paraphernalia on Cafe Press… T-Shirts, Mugs, Sigs, Mouse Pads, etc.
http://www.cafepress.com/EntitiesRUs
I will be updating and adding to this as it grows… Creativity knows no boundaries here, so watch for interesting developments.
GUEST DRAW OF THE MONTH – T-Shirts & Mugs

Always NEW (Well, when I get around to it)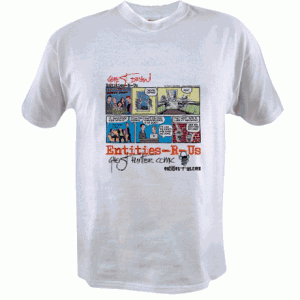 Looking for your favorite Guest Draw to wear to formal occasions? Looking for a reason to snort coffee through your nose on a cup per cup basis? Each month another Guest Draw of your favorite paranormal personality will be featured! So, keep checking to see who is up next!
http://www.cafepress.com/ERUGuestDraw
ENTITIES-R-US HAUNTED HOLIDAYS CHRISTMAS SHOP!
OMG! GRAVESTONES ON CHRISTMAS CARDS & ORNAMENTS! WHAT SICKO WOULD DO THAT?! Entities-R-Us would. Have a haunted holiday in the loveliest sense! Let the shopping begin!
Click Here: http://www.cafepress.com/ERUChristmas