On the Radio with Dead Serious – Scott Tepperman & Alpha Ghost Team
on
July 15, 2011
at
11:29 am
I was asked to join Ron Boardman, Scott Tepperman and the Alpha Ghost team for Dead Serious Radio on July 26, 9pm EST.
Please join us for some paranormal parley and comics discussion! Well talk about the unique paranormal activity my team had at Smalley's Inn. Join the chat or call in!
http://www.blogtalkradio.com/deadseriousradio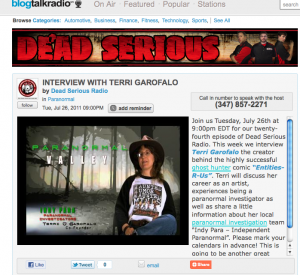 For those of you who missed the episode of Paranormal Valley starring my ghost team Indy Para, have a look! It was pretty cool! This production is every bit as good as the regular TV ghost shows! That's because Big Guy Media is the real deal.
http://yourbgm.tv/yourtv/living/paranormal-valley
There are some interesting comics coming up! I'm fooling with photos again.
Eat Cookies, Hunt Ghosts!
Tj
FYI: The Shanley event for this weekend was canceled. What a bummer. Hopefully we can set up an new gig soon!