Newsy Stuff
on
April 29, 2011
at
1:57 pm
Ghost Village
Thanks to Jeff Belanger and Deonna Kelli-Sayed I am featured on Ghost Village this month. Entities-R-Us is getting around…
http://www.ghostvillage.com/resources/2011/features_04282011.shtml


GHOST AND DEMON RADIO SHOW
Sunday I am back in the lineup for Ghost And Demon Show with Nathan Schoonover and Shaun Burris. They are also the subject of Sunday's Guest Draw… this one is hysterical.




Have you finally bought the book?

If not, then you should!
Entities-R-Us, Ghost Hunter Comic – Paranormal Humor for the Ghost Hunter's Soul
by Terri J. Garofalo, foreword by Barry Fitzgerald of Ghost Hunters International, SyFy.
This is the first book! It has the beginning cartoons, with stories of how the strip began, it's characters and Terri's first paranormal experience. It's a must have… there will be many more, but this one is special!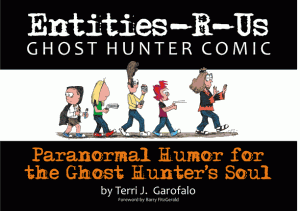 Get yours here: https://www.createspace.com/3434644


Paranormal Puppets!
Nathan Schoonover from Ghost and Demon and also from the former TV show Extreme Paranormal has put together a hysterical puppet show for all you paranormal enthusiasts. I'm going to cheat and let his P.R. speak for me:
Nathan Schoonover is a paranormal investigator, student of demonology and the occult, Master Mason, and have served as consultant and lecturer for several paranormal groups. Since he believes in the supernatural but has never met anyone who can truly explain it, his talks have included such topics as Getting your Ghost to Pay Rent, What do I do if I Find Jesus in my Waffle?, and Bigfoot – Government Conspiracy or Alien Transplant?
Nathan has spent twenty years working with researchers, talking with paranormal witnesses, and studying the philosophies of both believers and nonbelievers in everything from ghosts and Bigfoot to miracles and UFOs. Nathan has served as consultant to several paranormal groups all over the world and has lectured across the United States. In 2009 he was co-host of A&E's 2-night special Extreme Paranormal.
Nathan has served as co-host and producer of the internet radio program The Ghostman & Demon Hunter Show (www.ghostanddemon.com)for the past four years. In 2008 he was featured in FEARnet's Streets of Fear: "Hell Hollow Road," and was most recently a guest on a paranormal program for the Travel Channel; the episode will air in June 2011.
In 2011 Nathan and his Ghostman & Demon Hunter co-ghost Shaun Burris decided to take their internet show video. While discussing new ideas to use on the show Shaun suggested using puppets. Being a long time puppet enthusiast Nathan loved the idea but he had lost all of his puppets in a flood years ago.
To get back in the practice of using puppets Nathan has gotten a new puppet he calls Dick Lionheart. Dick is the leader of a fictional ghost hunting group called S.H.E.E.P. (Superficial, Hypocritical, Egocentric, Elitist, Paranormal) After working with Dick a few times Nathan decided to start making a series of videos he is calling Extremely Sarcastic Paranormal or ESP.
AND NOW FOR THE SHOW!
http://www.youtube.com/watch?v=M2RjKxQ0BLY
Enjoy! Eat Cookies, Hunt Ghosts!
Tj